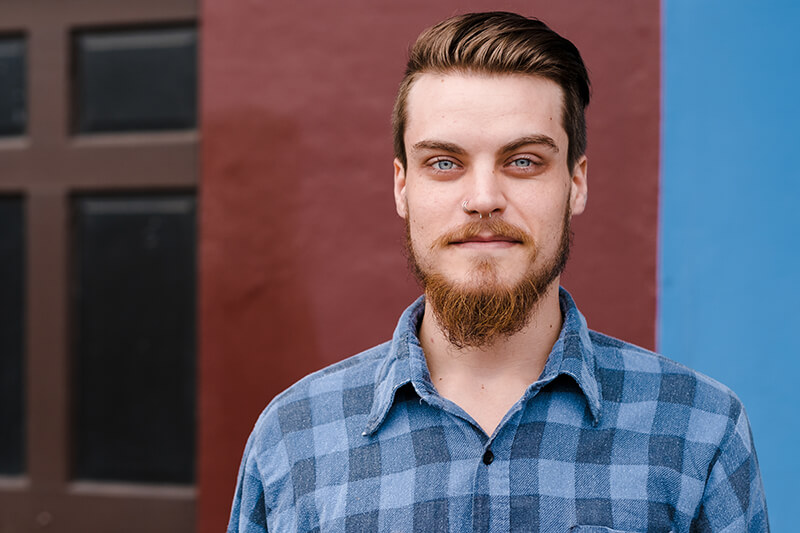 OPI Standard Program for Young Adults
The OPI Standard Program is the second level in our OPI programs. Our other programs are the OPI Intensive Program and our Intensive Outpatient Program (IOP). The OPI Standard Program is a highly-individualized therapeutic, educational, and residential program helping young adults, aged 17-28, achieve independence and reach personal goals. OPI's coed program in Woodland Hills, CA helps participants understand and resolve issues that have kept them from moving forward in their lives.
Individuals with less acute struggles start right here in OPI Standard. Participants who begin their healing journey in OPI Intensive have the option to step down to the OPI Standard program. This internal step-down process allows our treatment teams, working in conjunction with parents and participants, to continually re-assess as they work toward their goals. While still providing structure and a firm clinical hand, OPI Standard allows participants more freedom and the ability to explore.
Who is an OPI Standard Participant?
Participants at the OPI Standard Program struggle with a range of diagnoses including:
Asperger's Syndrome
Attention Deficit Disorder (ADD) / Attention Deficit Hyperactivity Disorder (ADHD)
Borderline Personality Disorder (BPD)
Bipolar Disorder
Depression
Failure to Launch
Learning Disabilities
Obsessive Compulsive Disorder (OCD)
Post Traumatic Stress Disorder (PTSD)
How We Treat
Learn the Treatment Phases of OPI Standard
Learn More
KEY BENEFITS OF OPI STANDARD INCLUDE:
1:6 staffing ratio
Staffed apartments in the beginning that evolve to unstaffed apartments and greater individual responsibility
Individual Therapy
Individual Psychiatry
Group Therapy
Individual Life Coaching
Career, Education, and Recreation Counseling
Addiction Counseling as needed
OPI Standard Program Overview

Our participants live in luxury apartments located in beautiful complexes with many amenities. The young adults live in gender-specific apartments, but all genders participate in the program together. Our program is highly individualized and we are able to specifically address each participant's specific needs. Our therapists and staff put together customized educational/vocational and therapeutic package for each participant. Participants are required to establish and work toward their own personal goals. In addition, participants are required to join in weekly group therapy sessions, monthly community service outings, and other activities. Individual psychiatric consultations are provided and participants engage in individual therapy sessions twice a week.
Life Coaching
Our Life Coaching Department works one-to-one with participants to increase their independence on a variety of levels. They work together on organization, time management, budgeting, personal care & hygiene, and social skills. Each participant is assigned a coach upon admission who will work with them for the duration of their time here at OPI.
Activities
Our participants enjoy numerous extracurricular activities. These include surfing, basketball, paint balling, bouldering, yoga, music lessons, and many more. Participants work with the Extracurricular Director to find activities in which they are interested, as well as suggesting ideas for the group to do as a whole. Group outings are planned for Friday nights. Saturday activities range from trying out different restaurants in the community, attending sporting events, and visiting local museums.
Education
The educational component includes matriculated opportunities at multiple universities and colleges. We chose to locate OPI in Woodland Hills in part because of its close proximity to many excellent schools. Participants receive guidance in regards to their educational goals, whether it is finishing high school, applying to universities, or taking transferable credits.
Career
If participants want to begin a career path, our staff will help them research and apply for appropriate opportunities. We also can match them with mentors in the community who work in various fields. These include business, medicine, film, and other arts. We are dedicated to supporting our participants in whatever fields of interest they may wish to pursue. Participants will volunteer in the community at least once a month. We encourage participants to find something they are passionate about, such as working with special needs children, homeless shelters, animal shelters, or art museums.
Addiction Counseling (if Applicable)
OPI has an addictions department and counselors who are available for those who need it. The Addictions department tackles everything from minor substance abuse to internet addictions, gaming addictions, shopping addictions, and others. We have established an in-house substance abuse program to specifically engage young people who may not be ready or willing to participate in traditional 12-step meetings. If a participant enjoys 12-step meetings, they are taken to as many as they want to attend within the community. They also meet individually with OPI substance abuse counselors and, through group activities, they learn that it's possible to have fun in a social context without the use of substances.
OPI Standard Program Phases
The OPI Standard Program is split into two phases:
Phase I
Participants live in luxury, three-bedroom apartments with a maximum 6 participants in each apartment. Our apartments are staffed 24/7 by our ILS's who oversee such things as wake-up times, daily chores, meal preparation, and curfew.
Phase II
Privileges of the participants are expanded as supervision is decreased. In all phases of OPI, we provide transportation within a 20 mile radius, which ensures they make it to their appointments, classes, work, volunteering, and extra-curricular activities on time.
Learn How OPI Can Help You & Your Family
Talk with an admissions counselor and find out how OPI can help you find greater success in life.
Get Answers