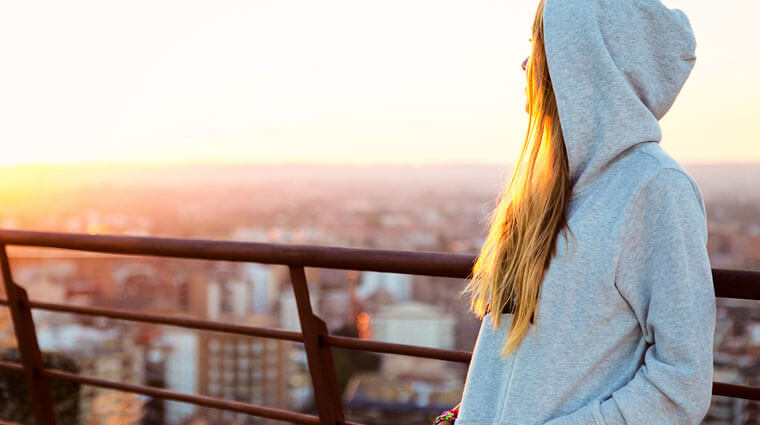 For the LGBTQ community
OPI offers compassionate, clinically sophisticated treatment for young adults of all sexual orientations and identities who suffer from mental health issues. The most common mental health concerns described by LGBTQ young adults are isolation, depression, anxiety, suicide, and substance abuse. Isolation and the feeling of "not belonging" are often particularly salient for the transgender community.
As a LGBTQ young adult figuring out his or her sexuality and whether or not he or she will be accepted by his or her support system, not to mention dealing with the depression and/or anxiety, becomes an all-consuming task, leaving little motivation for anything else. The structured and supportive environment of OPI encourages open discussions about sexual orientation with our participants and their families.
I'm Britt Kusserow, a life coach with OPI. As a lesbian and an advocate for social change, I believe strongly in the importance of in-house resources for our LGBTQ+ young adults. I believe this is reflected through ongoing conversation/flexibility and respect for identity when it comes to our shared housing, through having open and "out" therapists, ILS, and other staff, and through a group I co-facilitate, around Sexuality and Gender Identity.
Having a group like this allows for varying expressions of community growth and fostered respect.  The focus of our group is ever-changing! The space always exists as a safe place to discuss any therapeutic/emotional issues surrounding ones' identity and journey: to process, vent, or hear feedback from peers and staff. At times the necessity of this is abundantly clear. At other times, the group is used for experiential activities or more facilitator-led discussion topics (exploring societal biases, intersectionality, personal boundaries etc.)
I welcome any prospective LGBTQ+ youth to touch base with me about our group and whether it's right for you! Although it is offered, it is not mandatory and those of us who organize it rely on self-disclosure/willingness when considering who will join. We recognize that some people aren't out, aren't ready, or just aren't interested!
Wherever you are on your journey, I look forward to meeting you.
Hello! I'm Zoey, an Independent Living Specialist with OPI. I have been pleased to see all of the resources available for LGBTQ+ participants at OPI. Even though I am working as a staff member, knowing that my coworkers were accepting of my background helped ease me into the workplace culture.
I am often able to live my life without mentioning my part in the LGBTQ+ community in my personal life and I prefer it that way. However, I recognize that that is not always an option for people nor do they always choose so. Simply knowing that you are not alone in your experiences is also a big helper. It is with that note that I hope being open and 'out' at OPI helps participants feel more comfortable both in and out of group meetings.
Though I am not currently facilitating any LGBTQ+ groups, my door is open to anyone that wishes to continue these discussions. After all, the need to process or vent can arise at any time. I welcome other discussions too because ultimately my goal is to provide a safe place for everyone.
I'm Gerard Martin, holding the position as an Independent Living Specialist at OPI. I identify as a Bisexual and a leader who stands tall to positively empower the LGBTQ+ participants within our program who are seeking to discover who they are and what they identify as. I find that it is important to embrace this part of who we are as it is what makes us whole. Here our participants will have the opportunity to learn how to keep an open mind and embrace their sexual orientation without judgment. This is where the process to a healthier lifestyle begins. Being surrounded by like-minded individuals in a therapeutic environment can really make all the difference when it comes to becoming who we were born to be. As someone who is finally confident in their sexuality, I can relate to those who are still figuring out where they stand in the midst of it all. I am here to offer those who are feeling like they need a sense of belonging; open ears, an open heart, and feedback, to share another perspective. Here at OPI, it is my purpose and my calling to do that. The resources are provided to make the process of stepping outside of one's comfort zone, a process of growth, self-empowerment, and realization that, no one here is alone.