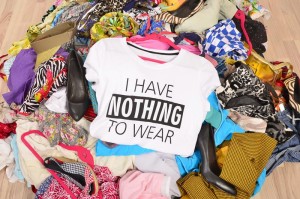 Dress for the job you want, NOT the job you have.
~Rachel Michael
If ever there was truth in a quote , this would be it. Think about it: have you ever seen someone who dresses in sweatpants advance to CEO of a company? Even Mark Zuckerberg, who is a pretty casual dresser, doesn't dress in sweats or shorts all day everyday (and it has nothing to do with the weather). Being employed or attending school is a somewhat formal matter and should be looked at with respect. It's no wonder those who tend to dress up a little bit more tend to get the better offers and better grades. And, because you want to step up your game, here is a list of the most popular wardrobe essentials for your college career and/or future job.
Jean – probably the most essential pair of pants for the college student. You can dress them up or down and still command a seriousness about your studies.
Crisp white button up – Men and women: YES! You ALL need this! A white button up is great for any presentations you need to give, 1:1 meetings you might have, or conferences you may need to attend.
Slacks and/or a pencil skirt – to go with your button up or other dressier shirt. Again, this is great for any professional meeting you might have.
Basic Blazer – Blazers just tie everything together. You can wear them with anything – jeans, skirts, slacks, trousers, ANYTHING!
Wrap dress – Ladies, wrap dresses are great for anything. Go on a date, an interview, a conference, a presentation, or just hang out in your wrap dress. Be sure not to show too much cleavage, keep it at a respectable length, and make sure it covers your shoulders.
Ties – Mainly for men, but women could pull off ties, too. Ties bring your wardrobe to the next level. They promote an air of professionalism that clothing without a tie can't seem to match. Make sure you have at least 1 tie in your arsenal that is of good quality and craftsmanship.
Basic Cardigan – this goes with everything and both men and women could benefit from having a cardigan in their closet. If it's chilly, slip on the cardigan. Need another layer of clothing to complete the look? Use a cardigan. You get the idea.
Black dress shoes – Everyone needs a nice pair of black dress shoes in their closet. Women, choose a nice black pump and remember to make sure it is closed-toe. Men, a black loafer or lace up in a good quality will be perfect to finish your look.
If you just have 8 pieces in your closet, make sure they come from this list. You'll be ready to rock your professional world just by entering a room in the right clothes.